We are excited to announce that we have acquired the inventory of the long standing hardware store and website Hardware of the Past! Hardware of the Past is in St. Charles, Missouri and has been around a long time in their historic district. Theresa was pillar of the restoration community and was very knowledgeable and we hope to continue on her tradition with her wonderful inventory of solid brass bail pulls, bin pulls, and etc.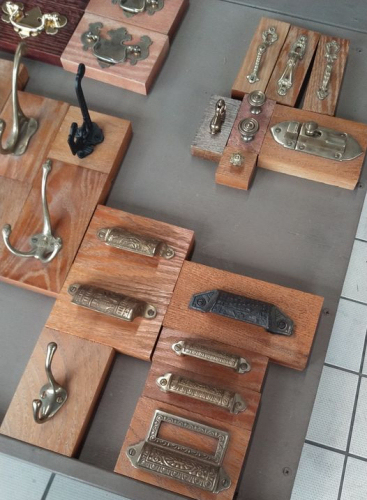 Hardware of the Past will still have a selection of rare and real vintage hardware in the coming years but moved the reproduction hardware line to us.
We have her inventory sorted in our Antique Restoration Hardware section along with the line of products we previously carried. The buyout included hardware in the Eastlake & Victorian styles as along with all sorts of hooks, parts, catches & latches. Almost the entire buyout was solid brass and boy was I sore after loading!
This is one of the major ways D. Lawless Hardware keeps prices of hardware down so low. We specialize in liquidation and buyouts and if it makes sense I go pick it up to save even more money. I drove from Olney, IL to St. Charles, rented a 26' U-Haul and loaded every piece up into the truck myself. Remind me please the next time I think about doing this...
There were over 200 new pieces of solid brass hardware and this will combine with our own collection of about 60 or 65 pieces of stamped brass bail pulls and other solid brass pieces from escutcheons & keyholes to trunk and jewelry box hooks.
The full line will be up by the end of the year!